Devin Sutter: Colorist & Stylist of Red 7 Salon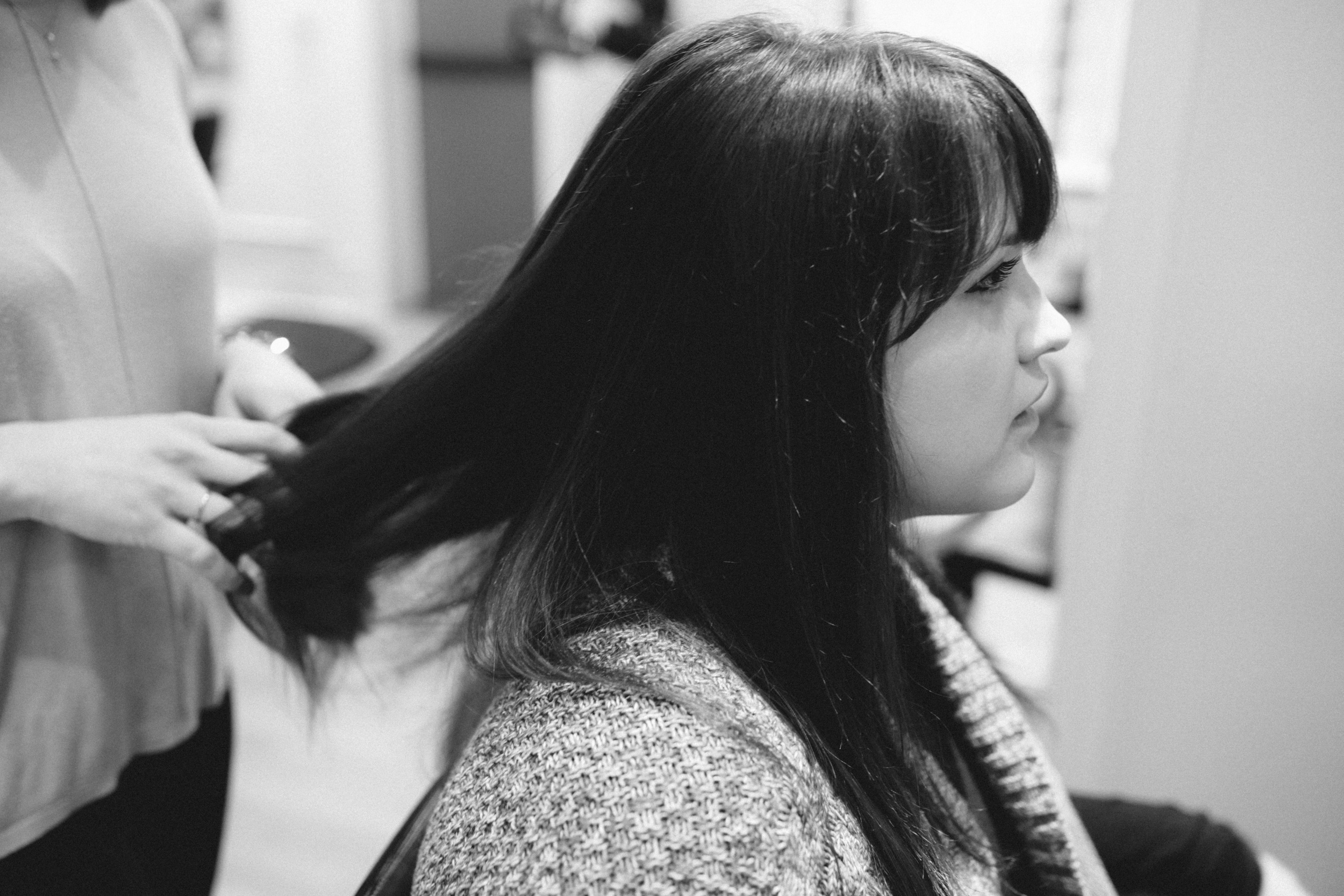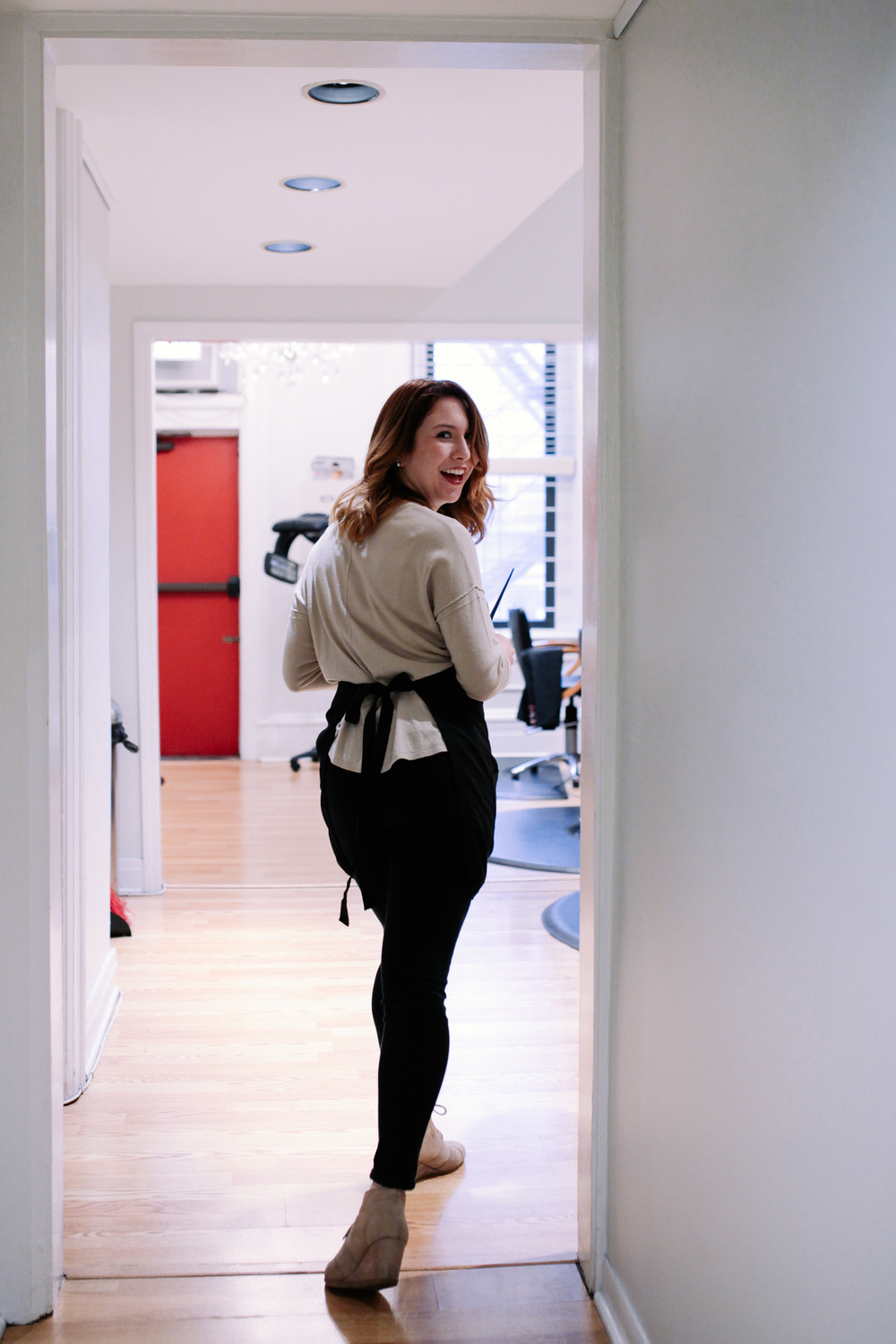 Devin Sutter is one of the most joyful and compassionate people I know. She works as a colorist and stylist at Red 7 Salon, but I know her through our church Missio Dei and small group, where I met her two years ago. I wanted to see where she spends most of her time. I wanted to capture her in her zone doing what she's skilled in and so passionate about. I followed along as she applied the Balayage Technique to our friend Lauren.
Tell me about how you came to know that working for Red 7 Salon (and in hair) was for you.
I grew up around the hair industry because my mom is a stylist at Fringe Hair Salon in Ohio. It always interested me but, never to the point of thinking it would be a career for me. As I got began making decisions on where I was going to go career-wise I started realizing how much interest I actually had in being in the hair industry. During cosmetology school, while in Ohio, I found Red 7 Salon online, stalked them on pretty much every social media outlet, told everyone I knew that Red 7 was my dream salon and that I would someday work there. The moment I walked into the salon for the first time I knew it was the place for me. I felt immediately comfortable, and that's not often the case in salons.
What do you love most about Red 7?
I work among some of the most talented colorists and stylists, so I am constantly learning and inspired by my coworkers, along with laughing with them in the backroom. I am lucky enough to work in an environment where I am affirmed and encouraged daily about the work I produce, and that's a special thing.
What do you love most about coloring and styling hair?
Somebody can walk into a salon having an awful day, stressed and exhausted, and I somehow have the power to make them smile. When I am blow drying a client's hair, and she begins to see our vision come alive and a smile creeps up on her face—that's my favorite moment of the day. I am a creative person, but there's nothing that makes me happier than structure. Coloring hair is the perfect mixture of creativity and structure for me.
Your faith is very important to you, how does it inform the work you do?
Jesus called us to love. I'm lucky enough to get the chance to love every person that sits in my chair. Relationships with people are at the center of Christianity, and my career is centered around creating relationships with people. To be honest, I struggled with seeing where my faith fit into my day to day job as a colorist at first. I've learned that your job doesn't have to be in a church building to be building up the church.
You've lived in Chicago for two years. How has your faith helped you find community, and what other blessings can you share with us as a result?
Oh my, I could talk for hours about this. Moving to Chicago was a huge leap that turned out to be the best decision and the most beautiful blessing. I walked into Missio Dei the first Sunday I lived here. Coming from a church in Ohio where I knew everyone's name, I knew it wouldn't feel like home. But I felt Jesus' love pouring out of the people around me, the worship music and the sermon that first Sunday. I joined a Gospel Community, and the people I shared a meal with & studied God's Word with quickly became some of my best friends, and even more than that, my Chicago Family.
What are some of your favorite products and why? :)
Oh so many! My go-to styling product personally is Smooth Again by Kevin Murphy. I have a LOT of hair, and it likes to get frizzy. Smooth Again calms it down just enough without losing any of the natural volume I like to embrace. Another go-to for me is Fresh Hair by Kevin Murphy - dry shampoo has become my best friend. My hair takes a while to blow dry and style, so I like it to last. Fresh Hair allows me to go a couple days in between shampooing my hair with it still looking great!
The Balayage look has been one of the tops trends for a while, now. Tell us why you think so and what it's like for you as a colorist creating this look for your clients.
One of the number one concerns when people are first starting to change up their hair color is upkeep. We live in a busy world, and people want to look trendy without having to be in the salon every month. The moment someone says "I want something different, but I can't come back often." my brain goes straight to using the Balayage Technique to create a look for them. By doing balayage on someone you are able to create a unique, beautiful, natural (or more bold!) look without giving them a look that needs to be maintained often. Its the best of both worlds: gorgeous color and no huge commitment.
How do you strive for work-life balance?
I'm very fortunate that when I leave work, I leave work, once my clients are done then my day is done. That being said, I do work a 48 hour week every week. I am someone who's automatic tendency is to fill every hour of my calendar, but since moving to Chicago, I have learned how unbelievably important it is for me to have alone time. I've also learned that Sundays and Mondays (my weekend) are sacred, and filling those days with anything related to work can be dangerous. Learning the art of saying no has become important.
What advice do you have for readers who are considering coloring their hair?
Do it!!!! There's nothing more exciting than changing up your color, and the wonderful thing about the current color trends is your color change can be done without a big maintenance commitment! That being said, look up photos, get inspired! Unless something makes you excited about changing your hair, it may not be the right time.
Is there anything else you'd like to share with readers about what you do and who you are?
My family is everything to me. My mom is my best friend and my go-to daily phone call. My dad is my biggest cheerleader in life and my biggest influence in running. I have looked up to my older brother David since the day I was born. I pretty much think everything he does is cool. And my sister-in-law Katie has been around since I was six and won me over with her trampoline. Oh, she's a super-mom to my three beautiful nieces. Besides Jesus and work, the other biggest thing in my life currently is running. I'm a marathon runner, as is my Dad. I somehow went from despising running to being completely obsessed with it. My morning runs are my me-time. I sort out my thoughts on the Lakefront Trail next to the sun rising along the lake. It's where I feel God closest to me.
See Devin's inspiration board on Pinterest, & follow along with Devin's Salon hair transformations, marathon training, & life adventures on her instagram.