In Studio with Photographer Anna Zajac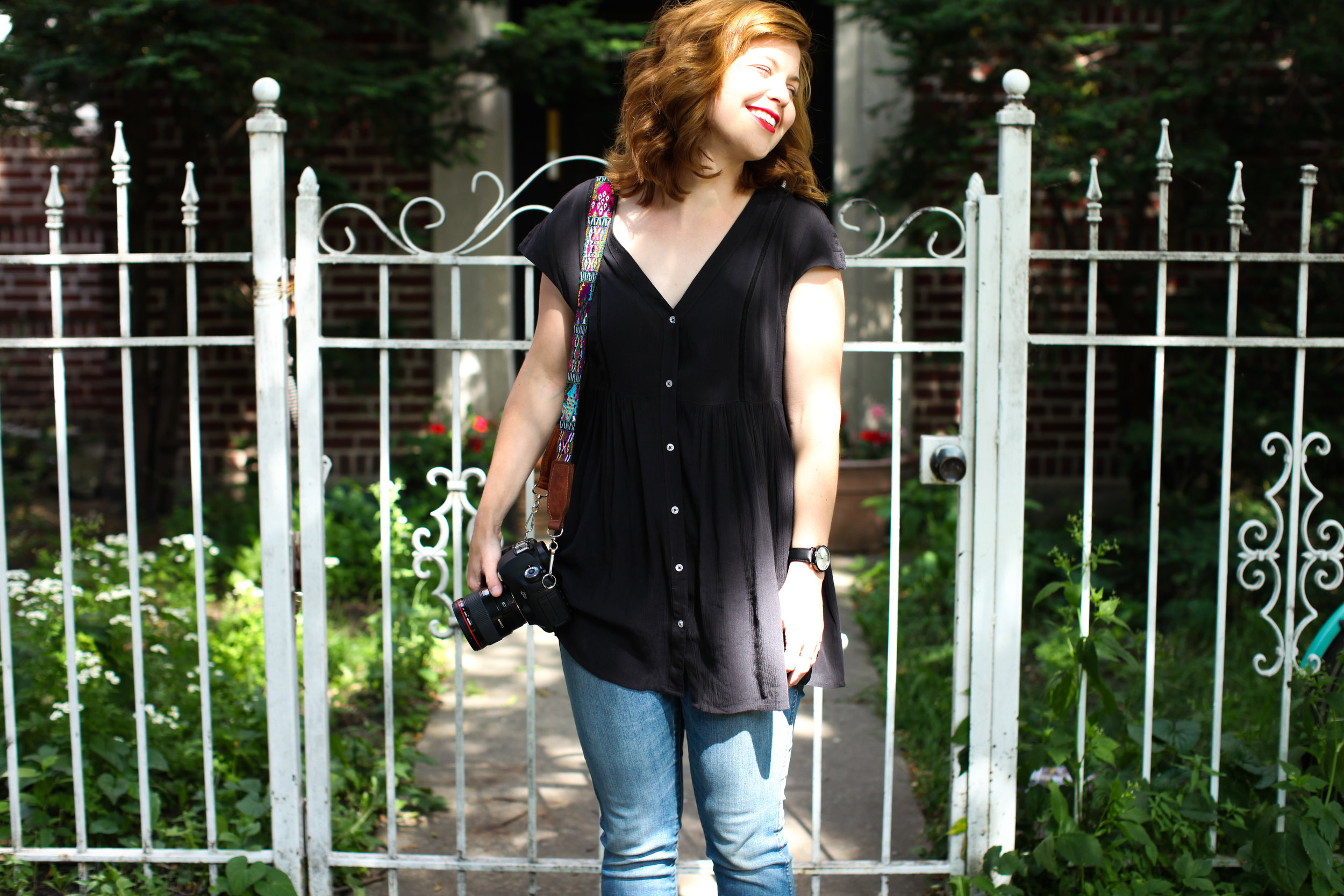 Anna Zajac moved to the Lincoln Square neighborhood of Chicago about two and half years ago from Cleveland to work for VSA Partners as a designer and to expand her wedding photography business Anna Zajac Weddings. Since then, she's transitioned into full-time photography. I met Anna in her home studio where we discussed morning routines, what she loves about her job, and what's been inspiring her.
What moves you most about wedding photography?
I think what moves me the most is the relationship I get to create with my couples and the access that I have to them on their wedding day. I get to see my brides and grooms in all of their vulnerable moments, and there's something really special about that because I'm the only person who gets to see that.
With the success you've experienced in Chicago, what helps you stay grounded?
I think keeping a heart of humility keeps me grounded. In creative work we never "arrive"–even in our successes. Once we start to think we have "arrived" we become stagnant and lose that posture of being a constant learner.
Can you speak into some of the most important lessons you've learned in your transition from working a full-time corporate design job to managing your wedding photography business full-time?
Saving money and becoming prepared with a budget and cash flow system is a huge part of transitioning into full-time freelance work. I have learned this first hand. A lot of people don't talk about the financial aspect of working for yourself, and I'm always confused as to why that is. I have learned that when I put value on my work, others also put value on what I do. And that's how a business works at the end of the day. The business aspect of my job can sometimes be very boring to me, but it's very very necessary to pay attention to if I want to keep making the work that I love. :)
What do you find most challenging about living in Chicago?
I wish I was closer to some mountains ;)
What do you love most about it?
I love so much about Chicago!!!! The hospitality scene is insane here, and the neighborhoods have so many unique personalities.
"I think the main thing I love about Chicago is her midwest work ethic vibes. Everyone works hard here, & I really respect that in people."
You witness and capture love for a living. That is no-doubt a beautiful thing. However, would you share with readers a more realistic challenge you find working in the wedding industry?
Seeing so many weddings can make me feel a little numb sometimes about my own love life. I have witnessed so much great love over the years, and it can be hard to believe there could be great love in store for me. I still remain hopeful. ;)
How have you experienced God's presence and sovereignty over the work you do and over the past couple of years? Or perhaps, if you've felt His absence, how have you worked on adjusting your perspective to see His sovereignty and experience His goodness?
God has been extremely gracious to me in the work that I do! It's ridiculous to taste and see that sometimes. I experience His goodness through the couples I get to work with and the work I get to make with them. I'm continually blown away by this whole area of my life!
During wedding season and your non-traditional work hours, how do you make time for God and space to recharge. When do you feel most-nourished and at your best?
I have learned to take Wednesday off as my day of rest during wedding season. When you work on the weekends it's really hard to enjoy Sunday as a true day of rest with Sunday weddings and engagement sessions happening. I love when I can physically rest by the lake on my Wednesdays off. Listening to audio books like Bittersweet by Shauna Niequist has been a great way for me to listen to some truth on my day off as well.
Being a creative entrepreneur and working from your home studio can be isolating. How do you include community in your day-to-day?
I love getting out and working from Workshop Chicago! It's a co-working space in the West Loop with some really fine people!
Do you have a favorite spot in your studio and time of day?
I love when my cat Isaiah sleeps on my desk while I work from the studio. It's the cutest thing ever and makes me happy that we can enjoy each other's company while I work :) I love my mornings in the studio as well. Good coffee, light and a little breakfast is my happy place.
What's been inspiring you lately?
I have loved the work of Olivia Rae James for a long time. She always inspires me with her work and her life.
Describe for us one of your favorite moments from a wedding you've photographed.
I recently got to travel to Mineral King Valley in California for a wedding at the base of a mountain. The couple camped with everyone who attended their wedding for the whole weekend. I thought that was pretty special to be a part of and experience.
Is there anything else you'd like to share with readers about your journey as a full-time photographer and your walk with Jesus in Chicago?
I think we don't realize how much we have to fight to become the people we are supposed to become. I just want to encourage everyone with that statement. Keep hustling and dreaming!!! :)